2017 Pierre de Coubertin Awards
---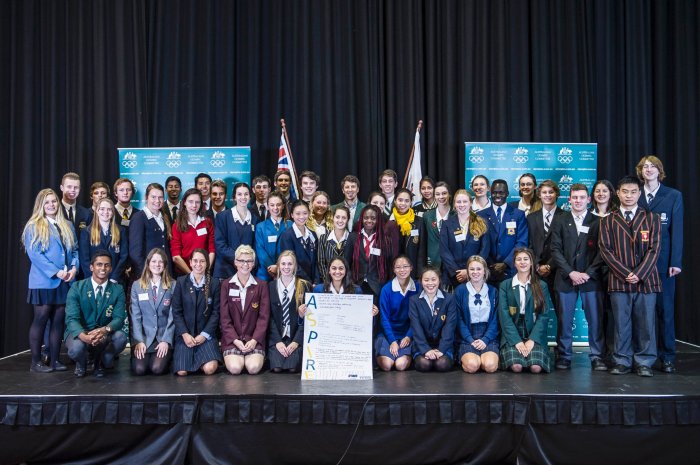 The Pierre de Coubertin Award recognises secondary school students who demonstrate values which are consistent with the Olympic Movement through participation in sporting activities.
More than 15,500 young Australians have received the Award since its inception in 1993 including 2016 Rio Olympic Gold Medallists Kim Brennan (Rowing) and Evania Pelite (Rugby 7's), Bronze Medallists Cameron McEvoy (Swimming), Jessica Fox (Canoe/Kayak – Slalom) and Olympians Alana Boyd (Athletics), Bronte Barratt (Swimming), Scott Bowden (Cycling), Alicia Coutts (Swimming), Amy Cure (Cycling), Cedric Dubler (Athletics), Brittany Elmslie (Swimming), Bianca Hammett (Synchronised Swimming), Sally Kehoe (Rowing) and Cristina Sheehan (Synchronised Swimming).
Each year, secondary school teachers are invited to nominate one recipient for the Pierre de Coubertin Award from year 10, 11 or 12.
IMPORTANT INFORMATION: the 2017 theme for the literacy, artistic or digital media piece is 'Which Rio 2016 Olympic Games moment has had the biggest impact on you?'
CLICK HERE - Pierre de Coubertin Nomination Criteria 2017
CONTACT US:
NSW / ACT / SA / TAS: pdc@olympics.com.au
VIC – voc@olympics.com.au
WA – waoc@olympics.com.au
QOC – qoc@olympics.com.au

In teachers are invited to submit a student to attend 11th Youth Forum in Ülenurme (Estonia) this August. 
Eight outstanding Australian representatives will be selected to attend the forum, as well as a week-long homestay in Norway. 
All information can be found here - 2017 International Pierre de Coubertin Youth Forum