Australian Olympic Change-Maker Program
---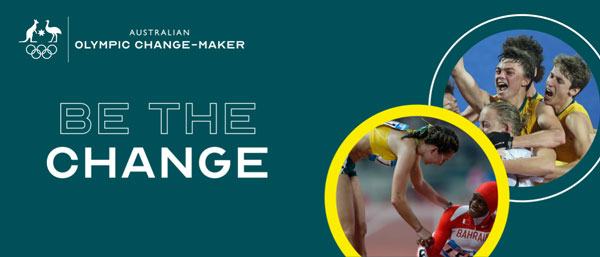 The pride we share in watching our Olympic teams striving on the world stage has inspired Australian's for generations. As we all know this spirit can transcend the sporting field and be a force for positive change.
The AOC is delighted to present the new Australian Olympic Change-Maker program in 2019, which has evolved from the Pierre de Coubertin Award.
The Australian Olympic Change-Maker program recognises and rewards students who are demonstrating the Olympic spirit through leadership and driving positive change in their communities. This can take on many forms – from minor to major, and from the ordinary to the amazing. Whether leading teams, coaching juniors, supporting seniors, making a difference at a sports club, a national cause or effecting change on the world stage.
Entries are open to all Australian high schools. Teachers are welcome to nominate up to two students per school from years 10-12 who demonstrate the Olympic Spirit through leadership and driving positive change in their communities.
To best demonstrate these attributes, we're asking students to include a 1 minute video as part of their application
 Every Award recipient will receive;
Certificate of recognition
Invitation to attend a State/Territory Forum
Consideration for selection to attend the National Olympic Change-Maker Summit
The program provides a unique opportunity for Change-Makers to come together with other like-minded young people from around Australia who are making a difference in their school or community. The theme for 2019 is 'change'.
The Olympic Forums will provide students the unique opportunity to share ideas and be immersed in a unique Olympic experience as well as learning first hand from Olympians. The State Olympic Forum is free of charge for Award recipients (travel expenses will not be covered) - refreshments will be provided for students.
Additionally, students from each state will be selected to attend a National Change-Maker Summit in December 2019.
For more details view the following:
Where to from here? Simply…
Identify up to 

TWO

 Year 10 - 12 students who actively demonstrate leadership through sport and/or use sport as a vehicle to improve health & wellbeing and drive social change in their school or local community
Enter the required details and press SUBMIT
An automatic reply confirmation email with further details will be sent to the teacher along with copy to both your award recipients and their parent/guardian. If you don't receive a confirmation email, please contact ocm@olympics.com.au
Nominations and video submissions are due 23 August - refer to timeline below
PROGRAM TIMELINE
23 August
Nominations close and 1-minute video submissions must be submitted by 11:59pm (AEDT)
September
STATE BASED - Australian Olympic Change-Maker State Forum
Mid-Late November
Olympic Change-Maker Kit and Certificate of Recognition will be sent to school
December
NATIONAL - Australian Olympic Change-Maker Summit
For assistance or information about the Australian Olympic Change-Maker program, please contact the AOC by calling 02 9247 2000 or emailing ocm@olympics.com.au.
We look forward to receiving your nomination and having your school part of this exciting experience.