Children enjoy safe cycling with 'Let's Ride'
---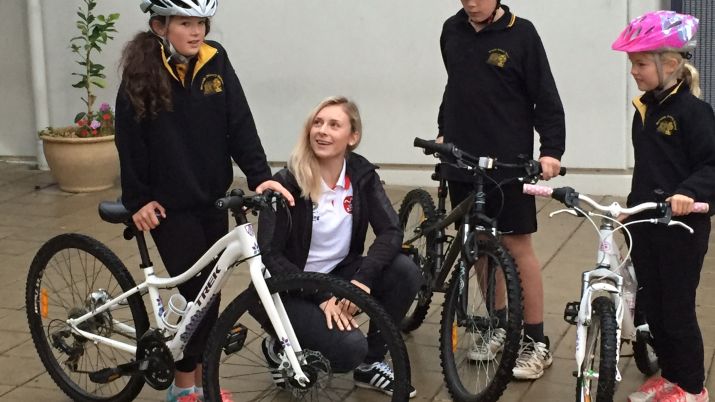 CYCLING: Nettie Edmondson and Nicholas Green OAM announce Cycling Australia's junior riding program 'Let's Ride' has aligned with national curriculum to teach kids 'Ride for Life' skills
Let's Ride, Cycling Australia's junior riding program, will now be aligned with the national Health and Physical Education (HPE) curriculum following the launch of their 'Ride for Life' curriculum resources.
Olympian and Let's Ride ambassador Nettie Edmondson launched the resources on Wednesday at Burnside Primary School in her hometown of Adelaide. 
"Learning to ride isn't just about putting on a helmet and taking off the training wheels, kids need to be taught how to assess risks and react appropriately." said Edmondson, a London 2012 Olympic Games medallist.
"That's why Let's Ride and the 'Ride for Life' resources are so important – they're teaching our kids how to be responsible and safe at a time in their lives when they're looking for independence."
Developed to tackle the safety concerns of parents, Let's Ride is six-week program is a fun and interactive learning experience that teaches 8-12 year olds to ride safely by developing their knowledge, skills and confidence – supporting kids in their independence and giving parents peace of mind.
Developed in conjunction with the Australian Sports Commission and one of Australia's leading education consultants, Janice Atkin, the 'Ride for Life' curriculum resources have been designed to involve schools in teaching the nation's children how to ride their bikes safely and responsibly.
"The Let's Ride 'Ride for Life' resources will provide primary school teachers with easy-to-use innovative lesson ideas for addressing Australian Curriculum content in Health and Physical Education, Geography and Science," said Atkin, a former Senior Project Officer for the Australian Curriculum, Reporting and Assessment Authority (ACARA) which is widely acknowledged as the industry leader in the HPE curriculum.
"Using cycling as a theme, students will not only learn how to ride a bike safely but can also explore the scientific basis of how a bike works as well as considering how cycling-friendly their local area is through a geography lens."
Cycling Australia CEO Nicholas Green OAM believes these resources will now make it even easier for teachers and schools to get involved in the process of teaching kids to ride safely.
"Following the official launch of the Let's Ride program in February, the launch of the Ride for Life curriculum resources are the next logical evolution of the program," said Green.
"With more than 1.9 million Australian children riding their bikes every week, schools are obviously an important part of Cycling Australia's strategy to increase participation in cycling.
"And the vision of the Let's Ride program is to develop a generation of children that love riding their bike, ensuring every child has both the ability and opportunity to enjoy riding a bike safely."
The 'Ride for Life' resources are a key component of the Let's Ride program and include:
Sessions plans aligned to the HPE national curriculum, including the focus areas of lifelong physical activities (recreational cycling), fundamental movement skills (balancing and riding) and safety (safe practices in road and traffic environments

Student assessment reporting templates to assist teachers in the assessment and reporting of achievement standards in HPE

Cross-curricular activities which bring the bike into the classroom through the Geography and Science curriculum.
If you are interested in receiving a FREE copy of the 'Ride for Life' classroom activities, you can access them via this link. www.cycling.org.au/curriculum 
Cycling Australia