NSW Primary School students get Olympian visits
---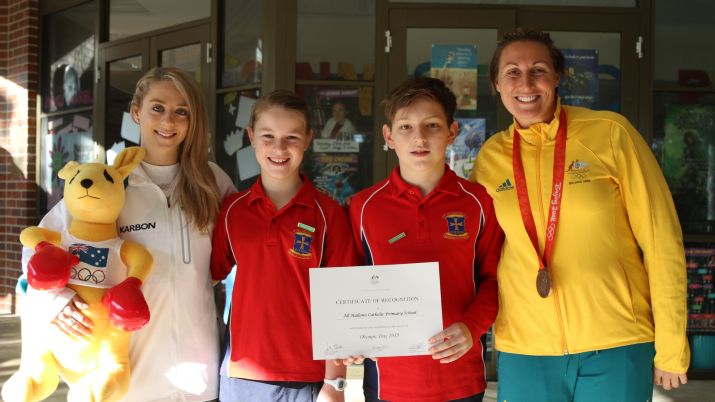 Students in two NSW Primary School were fortunate enough to experience Olympian visits this week, as part of the celebration of International Olympic Day.
On June 23 1894, the modern Olympic Games were born, and to celebrate this milestone in sporting history, the International Olympic Committee (IOC) encourages the world to get active on Olympic Day.
The Australian Olympic Committee supports this internationally recognised celebration of the Olympic Movement, by promoting healthy and active lifestyles to the youth of Australia through National Federations and Olympian school visits.
On Wednesday, June 24 two time Olympic Water polo player, Rebecca Rippon and Olympic snowboarder, Steph Magiros visited All Hallows Catholic Primary School in Five Dock.
Rippon was part of the bronze medal winning Australian Water polo team at her second Olympic Games in Beijing 2008, after her debut in Athens 2004.
Elite gymnast turned snowboarder, Steph Magiros represented Australia at the 2014 Sochi Winter Olympic Games in the half-pipe snowboard event.
The pair arrived bright and early to speak at the All Hallows' morning assembly, where they talked about their Olympic experiences with students, and promoted the AOC's A.S.P.I.R.E values.
After the assembly, Rippon and Magiros joined in at the schools' Game-a-thon event which consisted of a number of athletic activities at the local park, where the parachute was the favourite and a great childhood reminder for both athletes.
On Thursday 25th June, Commonwealth Games and Youth Olympic Games athlete, Michelle Jenneke visited students at North Epping Primary School.
The 100m hurdler secured a silver medal at the Australian Championships in 2015, behind Olympic Champion Sally Pearson, and will be hoping to fulfil her dreams of competing at the Olympic Games at the 2016 Rio Games.
Jenneke shared her experience of winning at silver medal at the 2010 Youth Olympic Games held in Singapore with students, and provided a great insight into the history of the Olympic Games.
After some questions from the school's house leaders, Jenneke and Year 3 hit the oval where two students raced the champion hurdler. Student got a chance to see Jenneke gracefully flying over the hurdles first hand.
Both schools were able to meet some sporting legends this week, ask them questions and take lots of photographs with Rippon, Magiros and Jenneke.
The Australian Olympic Committee is very grateful to these athletes for giving up their time to spread the Olympic movement in local primary schools around Australia, and Rippon, Magiros and Jenneke all acted in the spirit of the Olympics.
Both All Hallows' and North Epping students seemed delighted with their visits from Olympic champions and were able to truly celebrate Olympic Day in 2015.
Ashleigh Knight